As a little boy, I felt like I am just an ordinary child like others. My mother is a teacher and my late father was a soldier. I have an older brother who has the same interests as mine. He is the one who influenced me to listen to music which varies from hip hop, metalcore, jazz and many more. I also learnt skateboarding from him too! During secondary school I was introduced by my cousin on skateboarding. From there I used to play skateboards with my brother and some other friends. It was during secondary school during that time, access to the internet is limited and mostly my source of learning is from other people and local magazines.
I also started to know all the skateboarding brands such as ES, Emerica, Vans, PIG Wheels, Ipath, Powel Prata, Blind, Toy Machine, and my favourite brand during that time was Volcom Stone. I started to fall in love with Volcom Stone because one of my local idol skateboarder, I noticed him wearing Volcom Stone all the time which makes me impressed about skateboarding brands. Since then, I started collecting skateboarding brands apparels such as t-shirts, denim, pants, hoodies, stickers and stuck them everywhere as a form of art or keep it in my sticker album. I started realising that there is a culture called streetwear brands.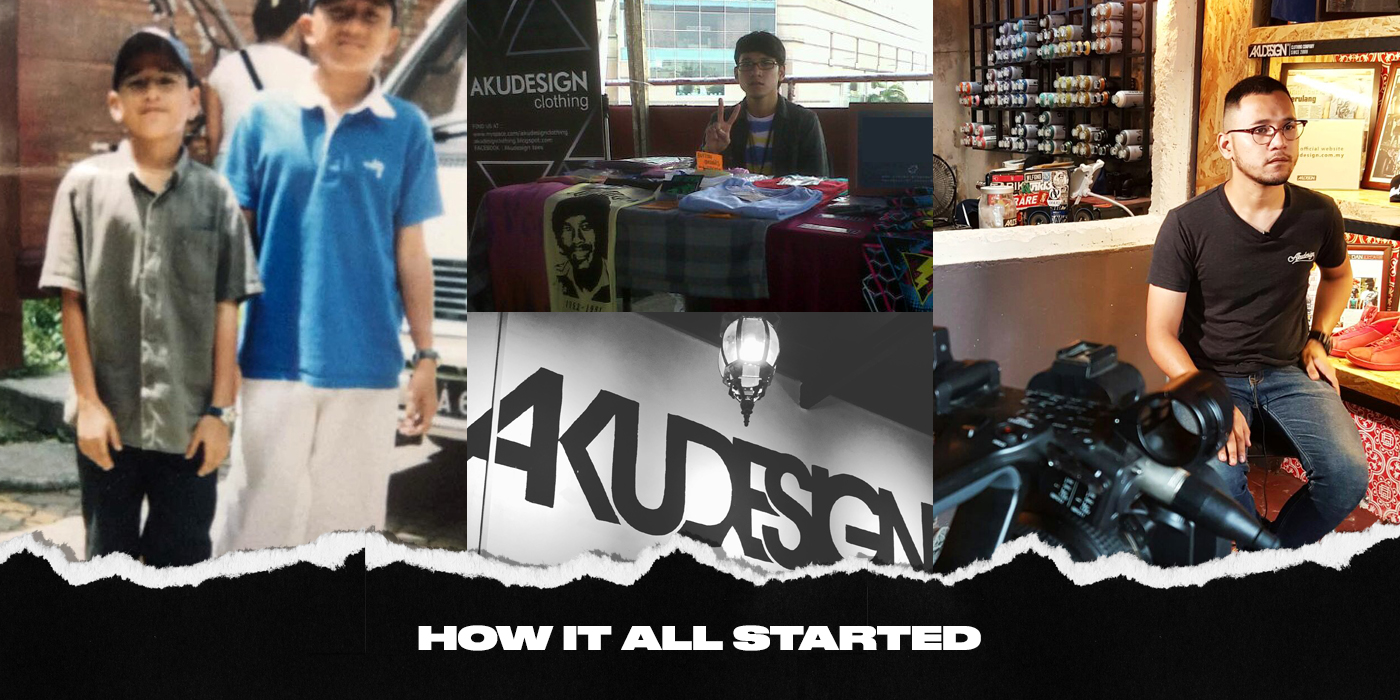 ---
After finishing secondary school, I am still much into with streetwear brands at that time but never had thought of creating my own label. One day my brother and I was in the car and talking about 'What if we create our own local brands?' He said yes! He loves doing graphic and at same time I love business too. So why not we combine this idea and create a clothing brand.
AKUDESIGN™ name started when we were in the car trying to figure out what is the best name for us to bring forward. We do have various selections and after a few discussions we decided to go for AKUDESIGN™. The meaning of AKUDESIGN™ means 'I' Design. In Malay, AKU means ME. It is a general word that we use daily to communicate, and it will be much easier for people to remember our brand name. The word DESIGN means developing something from nothing. What we want to deliver is that, this is our design, so hence, 'AKUDESIGN™'.
After a few years of running this brand, we found out a deeper meaning of AKUDESIGN™. It represents who we are as a human being. In any circumstances, in order for us to succeed or fail, it all depends on ourselves. Our mission, vision, dreams, attitude, moral values, all depend on ourselves. Which, at the end of the day the word AKUDESIGN™, is very much applicable to us!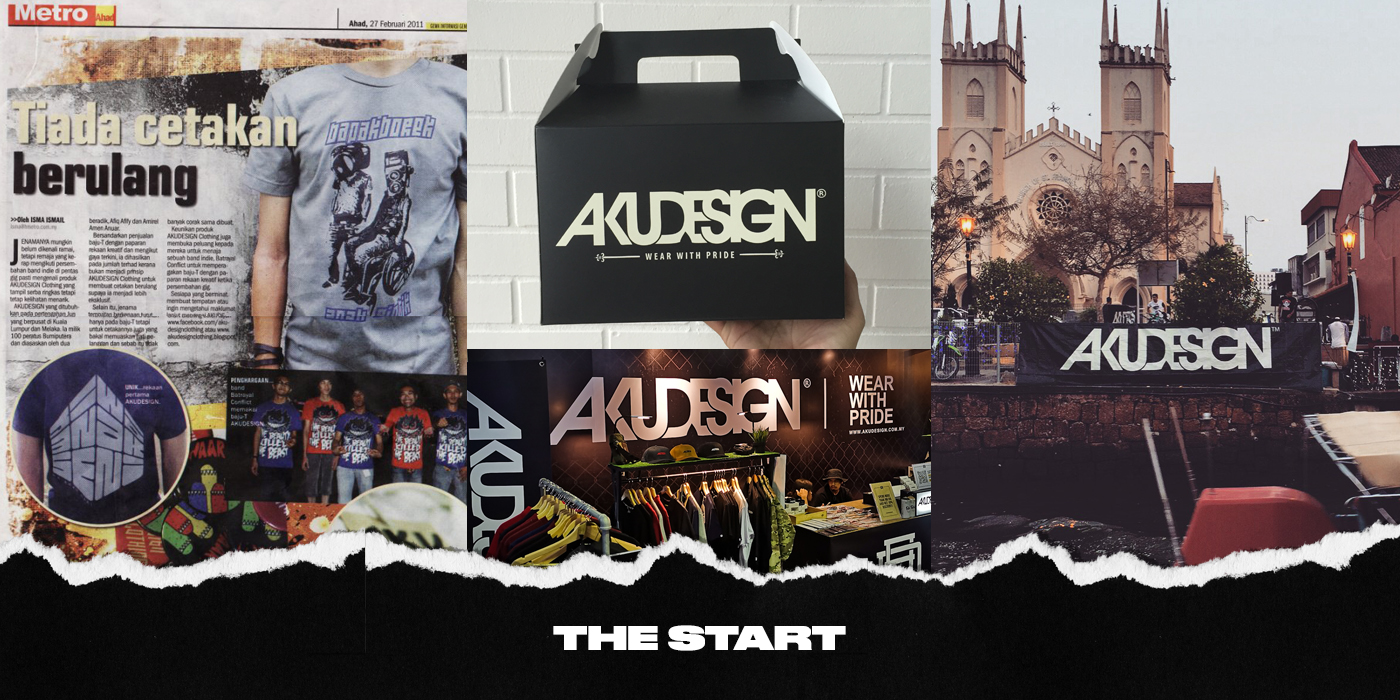 ---
Our first design is known as 'JIWA ANAK SENI' which means 'The Soul of an Art Kid' was release on 2009. The story behind this design which made it special is that it took us 365 days to sell off 30 pieces of t-shirt. It takes a longer time to sell compared to our current sales considering it is our first involvement in selling t-shirts without any knowledge, we dived right into it. It was tough times and what kept me going is my passion for streetwear brands. I know I can do it, if Volcom Stone can make it, why not us. As time goes by, after we have gone through all the hardships, now we are able to sell more than 8,000 pieces per year. We are also able to release every collection every month without fail. Besides t-shirt we are now expanding our products to pants, hoodie, raglan, jackets, footwear, sunglasses, accessories, bags and many more.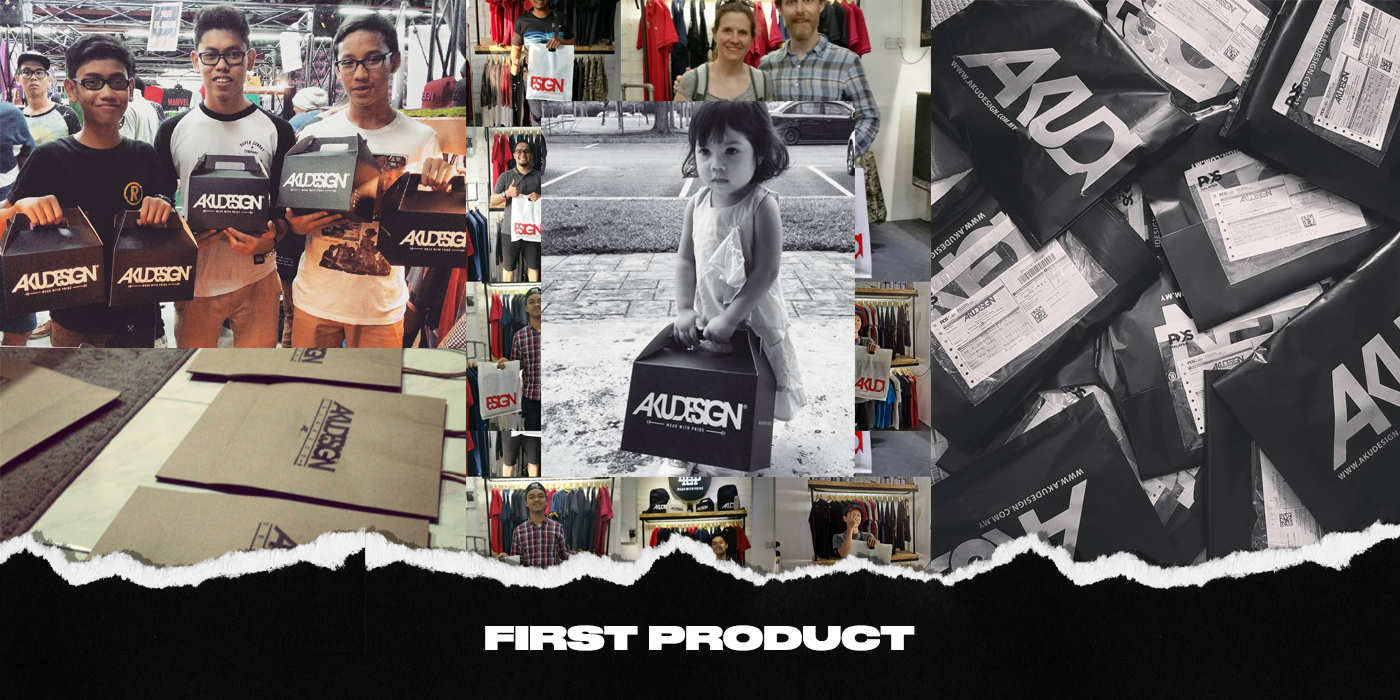 ---
As time went by, we started to join events such as Tweet Up, gig, music festival, big clothing event and more. People started to know our brand through the spreading of words. Usually, people who walk in front of our booth will joke around: "Hey who did this design?", and we said "AKUDESIGN™". Hence, it became an opening statement with our customer and we are glad as it gave an introduction to start our communication with customers.
During the progress of AKUDESIGN™, I believe that every day is a learning process, and we started to understand the real meaning of streetwear brands such as our concept, identity, logo, typo, tagline, colours, designs and our direction. AKUDESIGN™ Clothing movement focuses on streetwear products by emphasizing the clothing material, quality, design and details of the product itself. We stick to our tagline 'Wear With Pride' which we want our customers to feel proud when using our products. Our community consists of people who have creative thinking in the field of street art, graffiti artists, designers, hip hop genre music, skaters and streetwear fans.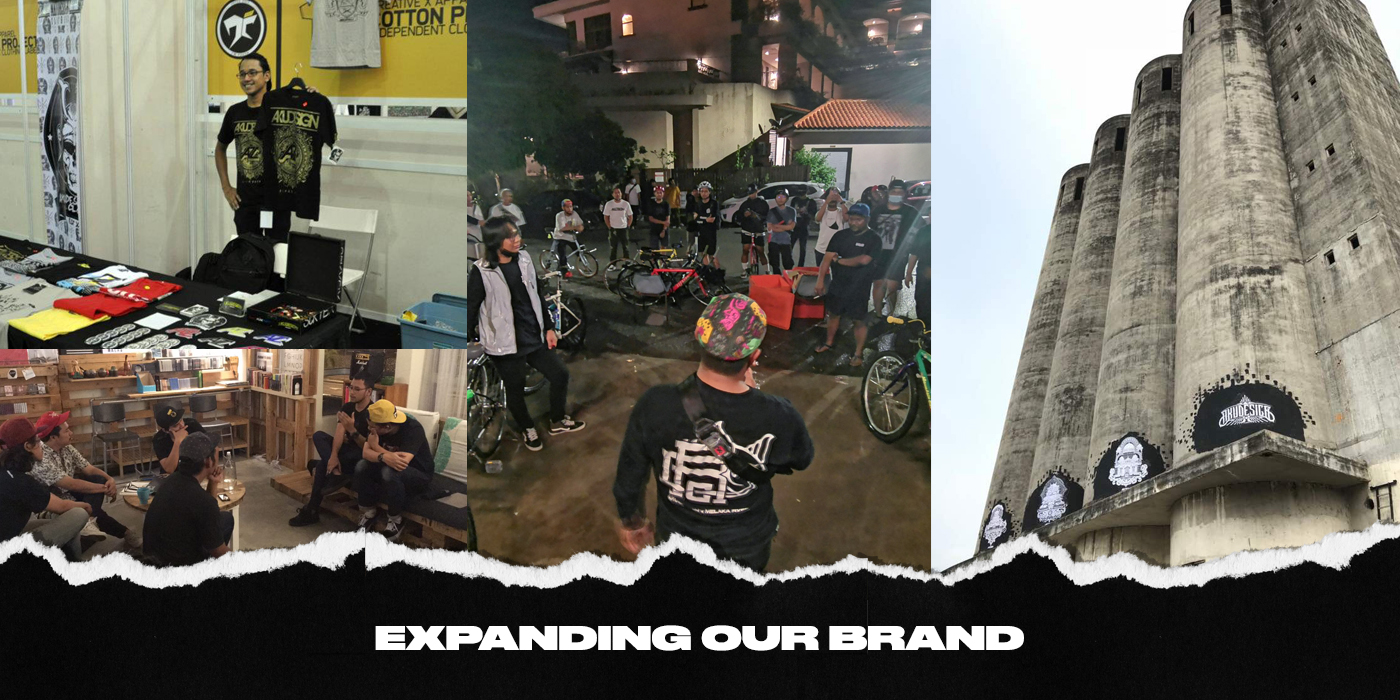 ---
After graduating University, I started to open up our first concept store in Melaka. Yeah we did! Without any knowledge about apparel stores, we went heads on for it. During launch day, we estimated around 200 people, and most of them are our loyal customers known as ADCTERS and friends. We appreciate all the support given! I wanted to inspire them, dreams do come true if you really work hard for it. But most importantly, I want to prove to myself that I am capable of achieving my dreams, if I put enough effort in it. Go with your passion and one day you will taste the success out of it.
Along our journey as a clothing brand since 2009 we have gone through lots of success and failure. We also did collaborations with our local people such as Melaka Fixed (fixed bike community at Melaka), AsmoeRoc (Graffiti Artist), Cat in The Box (café at Kuala Lumpur), Tarik Jeans (local denim in Kuala Lumpur), Siek27 (Graffiti Artist), Malaccafe (café at Melaka), Tempatan Fest (biggest clothing event in Malaysia), Altimet (most talented rapper in Malaysia), Meeting of Style (graffiti event in Malaysia), Meeting of Styles (graffiti event in Kuala Lumpur) and more.
Besides that, I'm happy to share that we are one of the verified sellers in Shopee Mall, one of the biggest marketplaces in Asia. We also have three local authorized dealers located in Kuala Lumpur, Johor & Sarawak. Other than our local sales, we do have international dealers in Australia known as MTN Colors Aus & Singapore Wholeseller. By expanding our distribution channel, we believe our market will be expanded not only locally but internationally. We also create AKUDESIGN™ CREATIVE which is handled by my brother Afiq Afify Anuar, focusing on service such as photography, videography, mural jobs, graffiti and doodles. Their clients are Nandos, BMW, Volkswagen, vape house, barbershop and many more.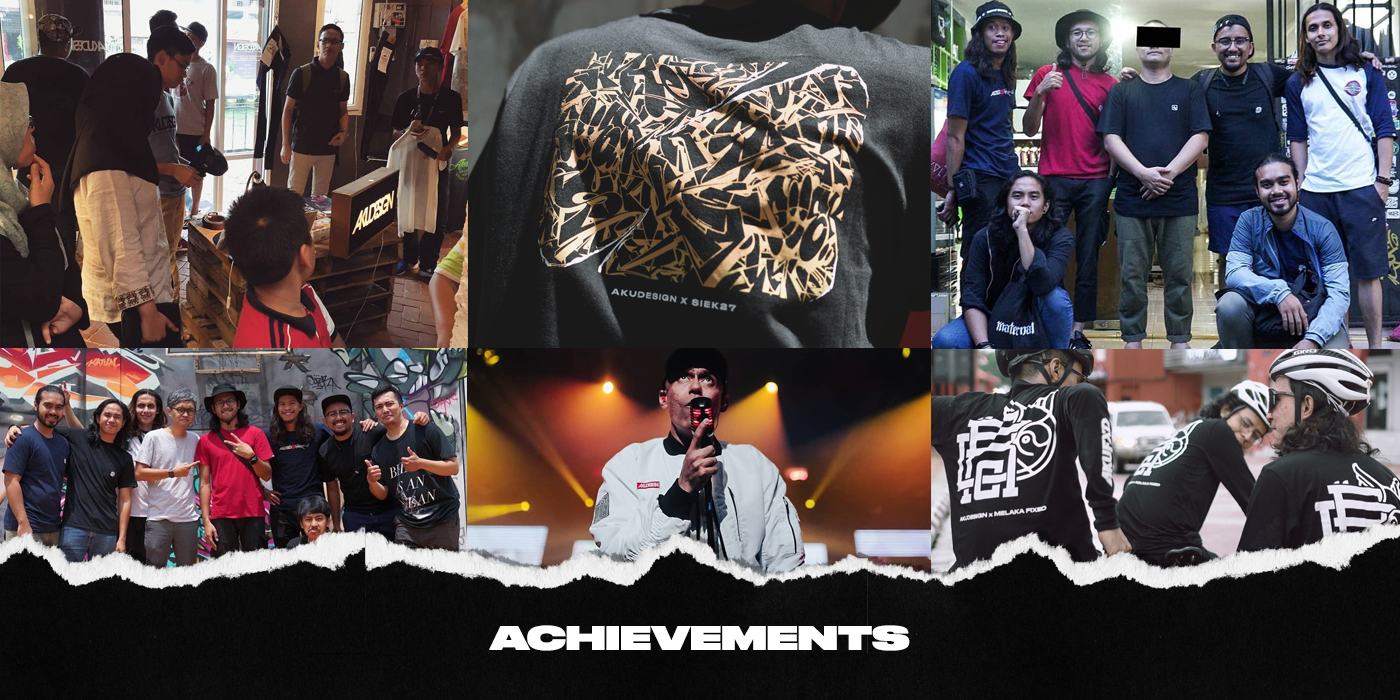 ---
After going through all the process, I am happy to say that we currently have a solid team for AKUDESIGN™. My focus for developing a strong team is one who believes in their passion and who wants to improve to be better like how I started before. I want to support them, to mould them so that one day they will feel great satisfaction when they follow their passions. I enjoy bringing AKUDESIGN™ to move forward, I believe there are lots of challenges and goals that we must achieve. We believe that with the experience we gained over the years, and the support from our loyal supporters known as #adcters, we will definitely carry our brand to another level. AKUDESIGN™ hope our ideas and identity will bring us closer to the underculture community to a different level and to be proud off. My personal experience of bringing this brand with my team for more than 10 years makes me stronger than before, as the saying goes, 'Experience makes you stronger'.
With the name of AKUDESIGN™, as we study the name itself, it makes me understand myself better, made me a better person. Through AKUDESIGN™, I have also improved my social skills, met new people and brands, have a life with a mission, makes me happier and grateful for this life. I thank God every day for all the opportunities given for the past 14 years in AKUDESIGN™. I am blessed and it is a great rollercoaster ride! And I hold on strong to my life quote since the beginning of my journey: